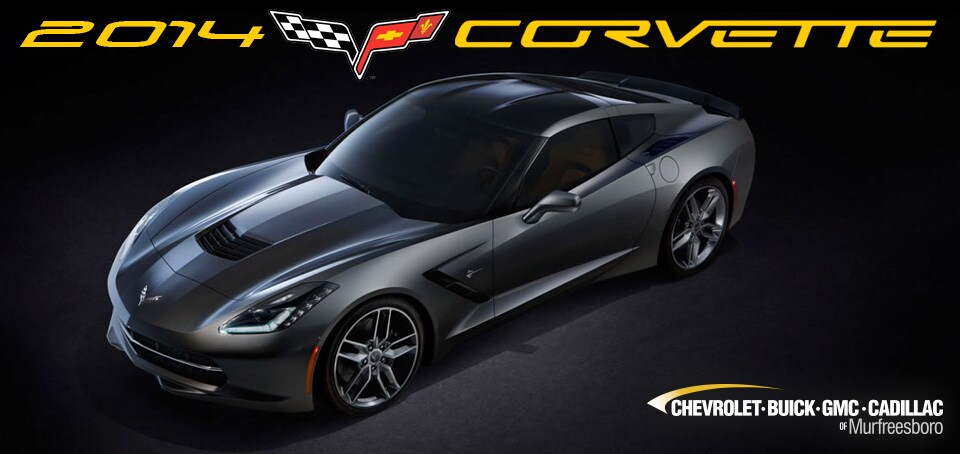 At Chevrolet Buick Cadillac GMC of Murfreesboro in Tennessee we have a huge selection of Chevy Corvettes. All trims are available. With sophistication and refined ingenuity, expect nothing less than standing out. Contact our Chevy Corvette dealership located near Nashville, Franklin, and Antioch to test drive, order, and reserve your Corvette today!
---
The All-New 2014 Chevy Corvette Stingray: Where Precision Meets the Pavement
If you were to ask anyone what they find to be the most appealing attributes of the Chevy Corvette Stingray, you might expect to hear comments such as incredible power or fantastic styling. Over the years Chevrolet, Buick, GMC, and Cadillac of Murfreesboro has been home to many of the greatest Corvettes in history. Buyers have come from Murfreesboro, Franklin, and Nashville, TN to purchase the car that has been the heartbeat of the entire Chevrolet lineup since its inception in 1953.
Innovative, Powerful, and Technologically Amazing
Today the new Chevrolet Corvette is the pinnacle of 50 years of development. From its innovative aluminum frame to the 450 hp small block Chevy power plant, the 2014 Chevy Corvette Stingray is faster and smoother than any previous model. The new Chevy Corvette Stingray has been named Car of the Year by Road and Track, Yahoo, Automobile Magazine, and Motor Trend (contender).
The freshly redesigned aluminum frame is made from five separate sections of hydroformed aluminum. Each of the separate sections has been designed to meet the needs of the area in which they will be used. This design cut a total of 99 pounds from the overall weight and increased structural integrity by a full 57 percent.
All new suspension uses stiffer links, bushings, and knuckles, along with aluminum control arms. Suspension is provided by Bilstein shocks and cradles made from hollow cast aluminum. Choice of wheels includes a combination of 18/19 inch front/rear or 19/20 inch that both give you a tight turning radius with plenty of traction. Michelin Pilot Super Sport Run-Flat tires are standard issue for the new Chevrolet Corvette, perfect for all-around use on the highways around Murfreesboro, Franklin, and Nashville, TN.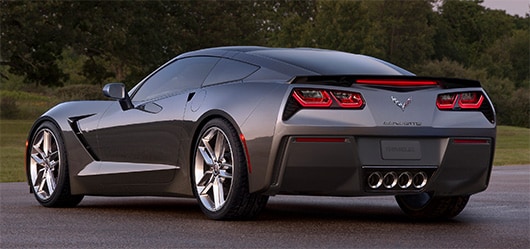 At the Heart of the 2014 Chevrolet Corvette Stingray
No matter what else anyone has to say about any Corvette, it has always been what is under the hood that truly inspires many people to dream of owning one. At the heart of this beautiful beast is a fully redesigned 6.2 liter LT1 V8 engine. This small block Chevy engine produces a maximum of 460 horsepower with 465 lb-ft of torque.
Fuel is delivered by direct injection that sprays the fuel straight into the combustion chamber combining with a compression ratio of 11.5:1 to produce formidable power and excellent fuel economy. The new variable valve timing increases top end horsepower, and help to develop strong low end torque. All of this creates plenty of screaming power when needed, and improves overall fuel economy when combined with the Active Fuel Management system.
To further help the new Chevy Corvette develop massive power and maintain excellent fuel economy, the Active Fuel Management system is designed to turn off four of the eight cylinders when they are not needed. Thus you can be cruising down the highway on only four cylinders to keep your fuel economy at maximum levels, and at the touch of the accelerator kick all eight cylinders into action when needed. The only difference you will see is an increase in fuel economy with no noticeable loss in power.
Slide in and Buckle Up
Sliding into the cockpit of the new Chevrolet Corvette is like sliding into the future. Start with an amazing freeform dashboard design that flows into the door panels, add in a number of digital features and you begin to get an idea of what Chevrolet has managed to achieve. The 2014 Chevrolet Corvette Stingray features a full color heads-up display that perfectly complements the dual 8 inch LCD screens that are fully customizable.
The interior features real aluminum trim or you can opt for carbon fiber. Every inch of grade "A" leather is handpicked for its quality and beauty to create an entirely new generation of sport elegance. The leather dash and interior is hand stitched to ensure perfect fit and finish. Even the steering wheel has been handpicked for the all-new Stingray and is hand-wrapped in leather or microfiber suede. The steering wheel mounted paddles are used to activate the manual transmission Active Rev Matching, or to manually shift the 7 speed automatic transmission.
Ride comfort in the new Chevy Corvette is a vital part of the package. You can choose from Grand Touring seats made from magnesium frames covered in Nappa leather, or Competitive Sport seats with extra side bolsters to help hold you in place. All leather is hand stitched to ensure perfect fit and comfort.
New 2014 Chevrolet Corvette Stingray Specifications
There are six different models of the new Chevrolet Corvette for you to choose from at Chevrolet, Buick, GMC, and Cadillac of Murfreesboro including the Coupe 1LT, Coupe 2LT, Coupe 3LT, Z51 1LT, Z51 2LT, and Z51 3LT, each of which offers its own trim levels. The basic specs are the same for each model and include:
| | |
| --- | --- |
| Powertrain: 6.2L V8 DI engine RWD | Fuel Injection: GM Direct Fuel Injection |
| 7-speed manual transmission: Standard | Front/Rear Suspension: Short/Long Arm |
| 6-speed Paddle Shift automatic transmission: Available | Brakes: 4 Wheel Disc with ABS |
| Horsepower: 455 @ 6000 rpm | 0-60 mph: 3.2 seconds |
| Torque: 460 @ 4600 rpm | EPA MPG: 18/29 city/highway |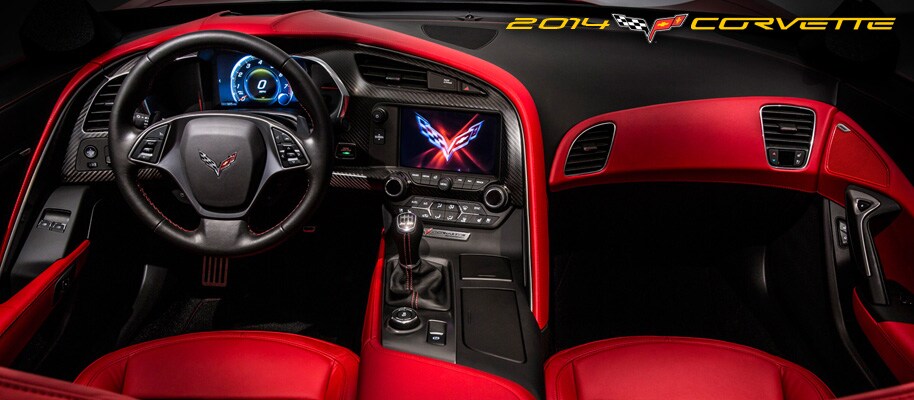 In the New Chevy Corvette Technology Rules
The slide out touch screen on the new Chevrolet Corvette gives you access to navigation, radio, cell phone, and tons of information. The heads up display can be custom tailored to provide you with the information needed to keep you fully informed as you head down the highway. All models offer the latest generation of Magnetic Ride Control for optimum ride handling and comfort.
Light for driving at night is provided by the latest in high intensity discharge headlights surrounded by edge lit LED turn signals, all mounted in a black chrome housing. The new angular shaped taillights use indirect LED lamps to ensure visibility in all weather.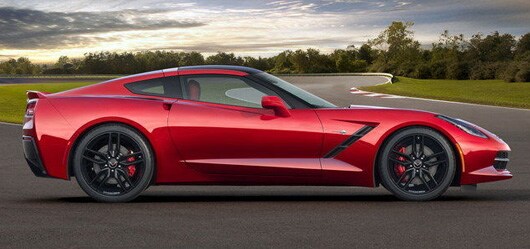 From the incredibly smooth lines of the all-new body style to the power house under the hood, the 2014 Chevy Corvette Stingray is a sight to behold. This is the best Stingray to come from one of the most successful sports car lines in history. Whether you choose Night Blue Metallic or Velocity Yellow Tintcoat you are sure to be noticed on the streets of Murfreesboro, Franklin, or Nashville, TN.
When you are ready to order your new 2014 Chevy Corvette Stingray, visit us at Chevrolet Buick GMC Cadillac of Murfreesboro. Our showroom is located at 1422 NW Broad Street, Murfreesboro, TN 37129, call us to set up a test drive at (888) 524-9138 or visit us online.
Written By: Mike Creque